AusNOG 2016 Survey results
As part of AusNOG 2016 we asked participants to provide feedback on the event.
For a couple of questions a slider was used and the participant was asked to respond as to whether or not they agreed with a statement relating to the event. The slider was equivalent to the following scale:
Strongly disagree
Disagree
Mildly disagree
Neutral
Mildly agree
Agree
Strongly agree
The slider was initially placed in the neutral position and so there may be bias to it as it is not possible to detect if the participant actively selected that value or just ignored the question (and thus it took the default value).
In the graph the mean value of the responses is indicated by a thick red line. The orange shaded region represents the standard deviation around that mean value. A thinner black line indicates the median value.
41 individual responses were received.
Q1: How did you find out about AusNOG 2016
A1: (based on 38 responses)
26 Mailing List
7 Friend/Colleague
4 Other
1 Search Engine
Q2: Where do you live?
A2: (based on 39 responses)
12 NSW
10 Victoria
7 Queensland
4 WA
2 USA
1 Asia
1 ACT
1 Tasmania
1 SA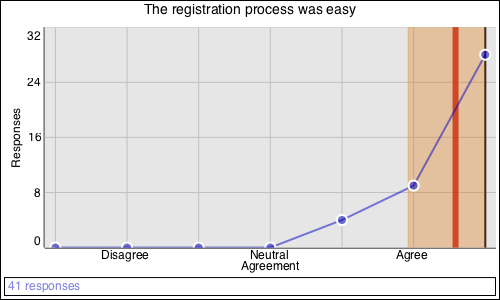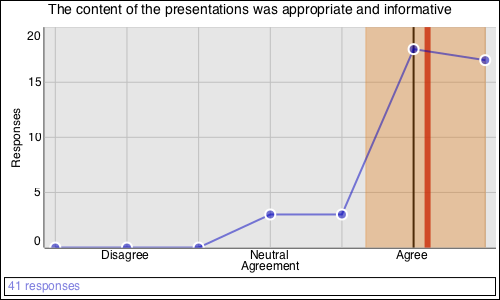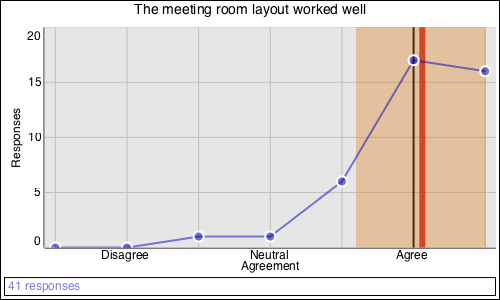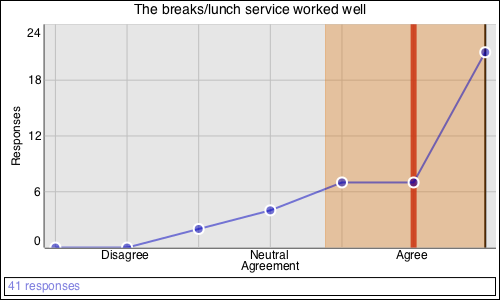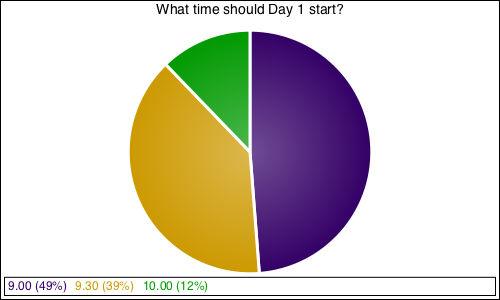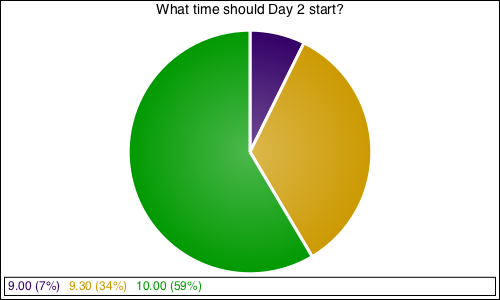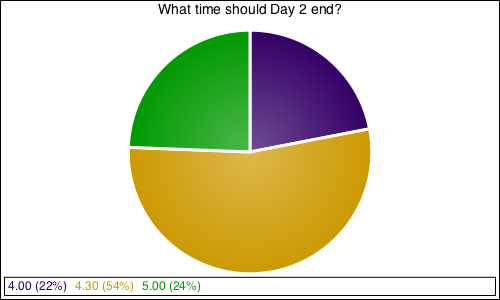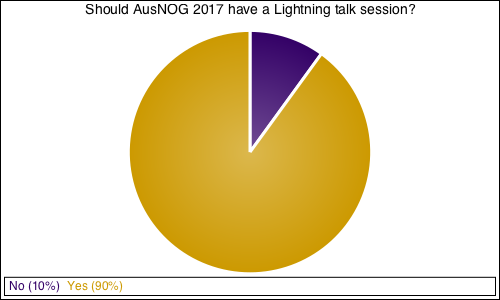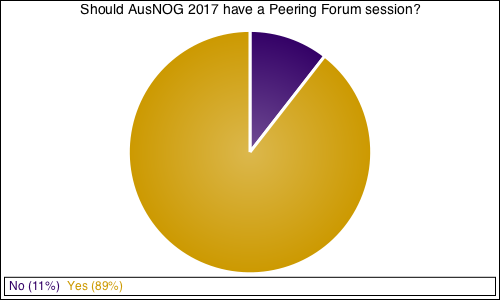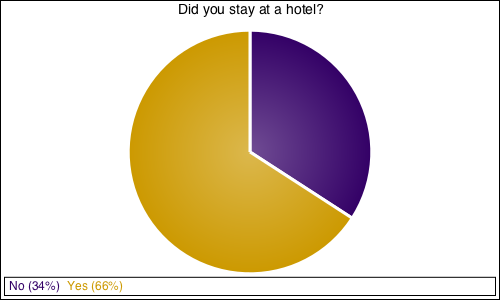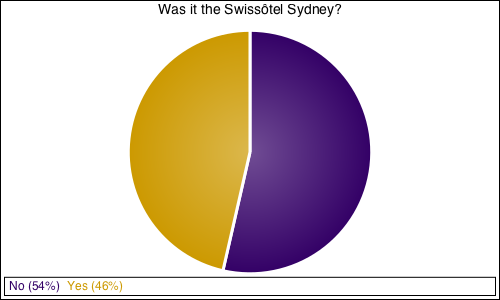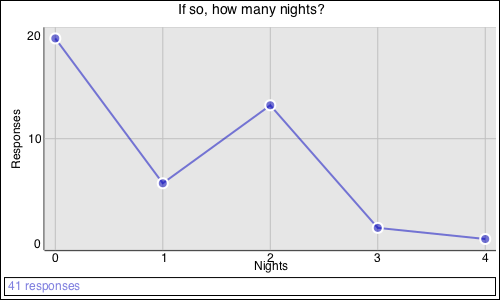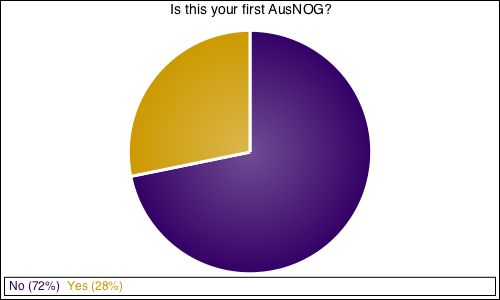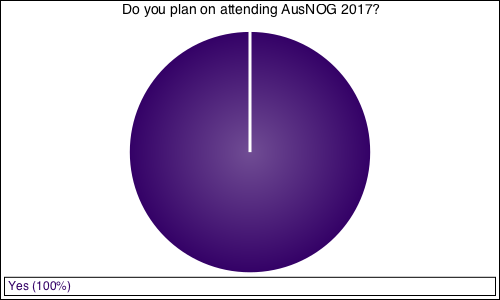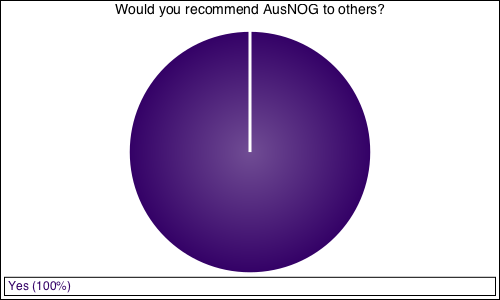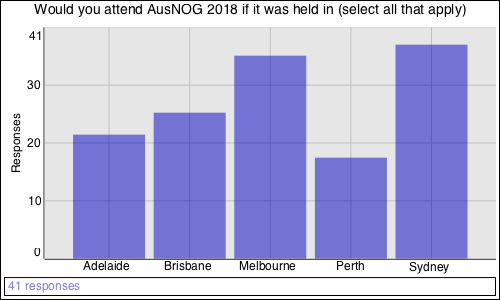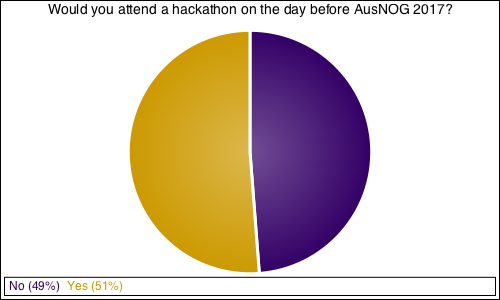 Additionally the following comments were received:
Definitely do a hackathon!
thanks guys!
Internet service was quite disappointing. Lightening talks are great. A stream on smaller providers is also needed.
Lunch still pretty ordinary. You don't win friends with salad :)
Great conference
Great Ausnog this year. Thanks for the hard work putting it together!
- catering: lunch needs to be served quicker/more efficiently so we can all get on with everything else we want to do (maybe cut from multiple courses to a buffet - may be cheaper, too?) - recommend considering larger venues/more streams/whatever-else-need-be-done in order to not have bookings run out *quite* so fast - understand though this comes with other significant logistical and costs challenges (and a reasonable counter to this is that people just need to organise themselves appropriately ;) ) - awesome, awesome work all round though to all involved; a good, useful, relevant conference event that is well attended and isn't vendor-managed/vendor-specific - and in this day and age that's such a rare beast.
Great work